They gave an ex-con a job and a chance.
He just showed the employer how much he appreciated that kindness.
He's being hailed as the "Baltimore Batman."
And while he looks nothing like the iconic superhero, Brian Woodyard clearly was an imposing presence when he showed up Monday night at the bar where he's a bouncer during the rioting that gripped the city.
"I asked them to please let me stay in because then I could set up a defense," Woodyard told WHP-TV. But he left before the rioting began.
During that time surveillance video showed looters ripping off liquor and tobacco from the Old Clubhouse after breaking through a huge grate covering a front window.
But then Woodyard came back — and you might say he was dressed for success.
He had donned a long dark overcoat, slipped on a white surgical mask — and was wielding a machete.
This man stood stood guard at a liquor for hours last night during the #Baltimore riots http://www.telegraph.co.uk/news/worldnews/northamerica/usa/11567301/Violence-and-vigilantism-as-Baltimore-erupts-into-rioting.html …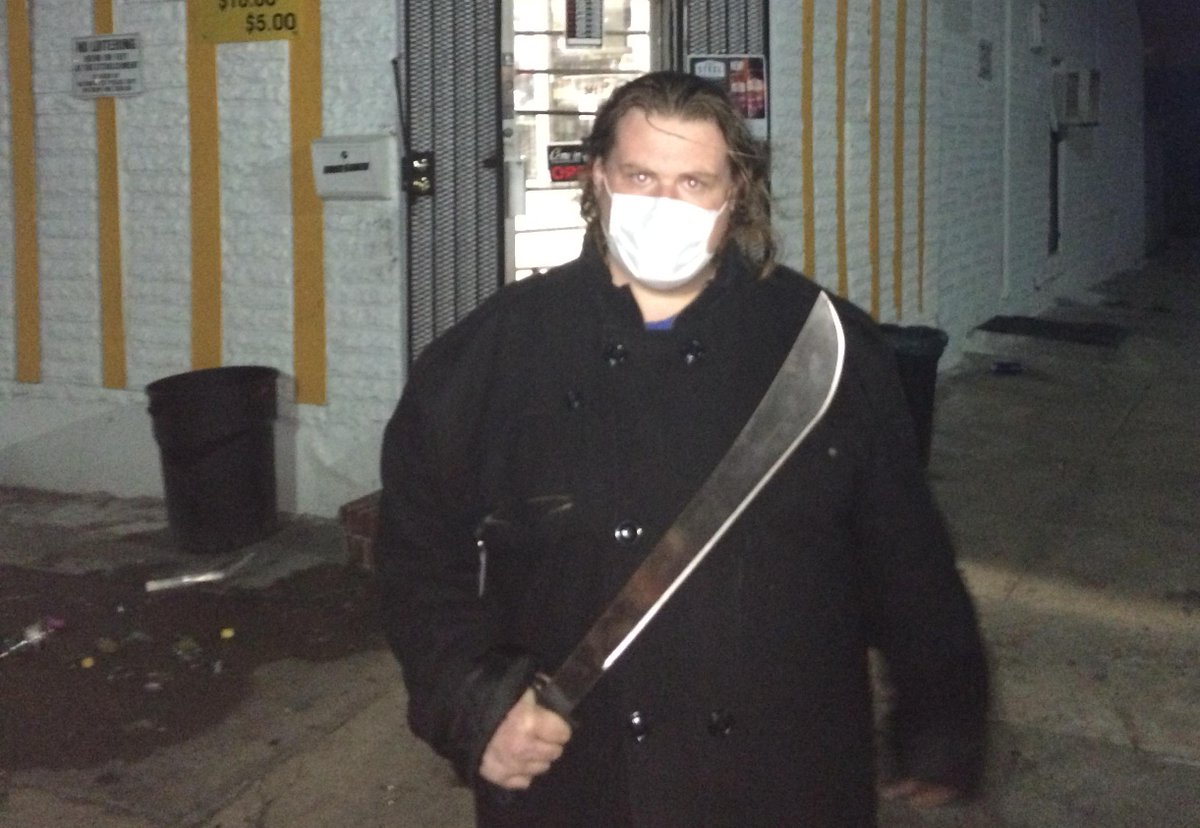 "I was just trying to get the bar cleared and hope and pray to God that they didn't set it on fire and destroy everything," he told WHP-TV.
Woodyard sitting on the steps of the Old Clubhouse. (Image source: WHP-TV)
Woodyard said a reporter on the scene told him he scared off about 50 looters from the bar. Beforehand, the looters cost the place a few thousand dollars in damage and stolen inventory.
So why such a life-and-limb commitment to his place of employment?
Turns out it was his way of showing appreciation to those who hired him: Woodyard is an ex-con.
"These people actually stood up and gave me a chance," he told the station.
In Woodyard's estimation, he's no Batman: "I'm just a plain guy," he said, calling himself simply one of many who stood up and did what needed doing on a night the city was in trouble.
"A lot of us did not wear masks," Woodyard told WHP. "But a lot of us did defend our homes, defend our storefronts, defend our bars and we did our best."